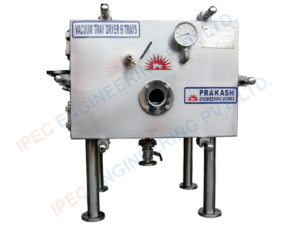 Vacuum Tray Dryers are mainly used for drying of high grade, temperature and oxygen sensitive products. Highly suitable for drying hygroscopic substances, which are dried to very low residual moisture, content level. Frequently vacuum drying cabinets are the sole possibility for drying lumpy, glutinous products or products of low pomposity.
VACUUM TRAY DRYERS CAPACITY
Standard models range from 6,12,24,48 to 96 trays.
VACUUM TRAY DRYERS FEATURES
All contact parts are made out of SS304 / SS316 / SS316L quality material in GMP models and mild steel externals with stainless steel internals in standard model
Hollow pad type heating shelves which are easily removable for maintenance
Condenser and condensate receiver fixed on the dryer body or stand alone for remote installation\
The full welded skirt on vacuum dryer body for flush mounting through the wall.
External fluid heating of dryer with protective panels in stainless steel or mild steel powder coated
Dedicated fluid heating and circulating systems. These can be steam or electrically heated. Fluid heating systems are available for water as well as thermic fluid (for temperature requirements above 95 oC)
Validation ports and nitrogen purge nozzles
Can be designed to customers specification requirements
Steam sterilisable models available
Double door loading available for large models