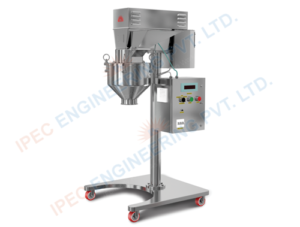 Multi Mill is widely used for wet and dry granulation, pulverization process etc. It is extensively used in pharmaceuticals, chemicals, cosmetics, ceramics, colours, dyestuff, food product industries. IPEC Multi Mill machine is high in performance and is appreciated worldwide.
These are dimensionally accurate and corrosion resistant. It can also be used for Pesticides, Spices, Detergent, Insecticides, Plastic and Resin industries.
IPEC MULTI MILL FEATURES
ll contact parts are made out of SS304 quality material ( SS316 quality is optional )
Sieves available in sizes of 0.5 to 12mm hole dia
12 nos. beaters with knife edges and impact edges & 02 nos. scrapper blades
In GMP Model complete body cladded with SS304 and polished to the matt finish & in Standard Model excluding product contact parts, all other parts made out of C.I. or M.S. and painted
Higher output with process uniformity
All contact parts can easily be dismantled and cleaned for change of product
Wide range of SS perforated screens available
Reversible direction of blade rotation
Different size of screen/ speed/number of blade/direction of rotation of blade can be selected
Beaters and scrapper blades made of stainless steel can be easily dismantled and cleaned
Cylindrical screen for continuous output
Mill with motor, electrical switchgear along with pillar is mounted on a base plate with castors for mobility
Flame Proof electrical motor can be incorporated
Designed for continuous operation
Widely used for wet and dry granulation, pulverization, etc.
D.O.L. starter provided with reversible switch
Extra sieves available in sizes of 0.5 to 12 mm hole dia. made out of SS304 / SS316
Pharmaceuticals, Chemicals, Cosmetics, Ceramics, Colours, Dyestuff, Food products, Pesticides, Fertilizers, Spices, Detergents, Insecticides, Plastics and Resins Industries
IPEC MULTI MILL OPERATIONS
MULTI MILL is designed to utilize the principle of variable force swing beaters having both knife and impact edges rotating within a selected screen to control the particle reduction. Material fed into the processing chamber moves to the periphery and passes through the screen radially and tangentially. After completing the processed material it will be get collected into the container kept below the processing chamber. Output & quality of the final product will depend on three main factors shape of beaters (knife/impact edges), speed & screen.