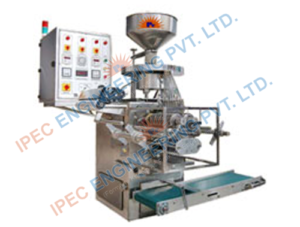 IPEC STRIP PACKING MACHINE is an ultimate solution to pack Pharmaceutical products like tablets, capsules, lozenges etc.
SALIENT FEATURES:
Heat sealable flexible packing web, cellulose films, Aluminium foils, poly supported packing material, BOPP etc.
Packing Material core diameter Max 75mm Min 65mm, Maximum Web diameter 250mm.
Durable.
Airtight Sealing.
Vibration less.
01 Type:
Centre Electromagnetic Vibrator Feeding.
M.S. fabricated body with adequate inspection windows;
SS Hopper mounted on telescopic adjustable stand made of SS.
SS Cladding all over the body of the machine of SS 304 and all contact parts of SS 316only.
02 Drive:
0.50/0.75 H.P. 3 ph. 440 V. 1440 R.P.M./TEFC Electrical motor.
Oil immersed Reduction Gear Box, Universal Mounting Type.
03 Variable Frequency Drive (VFD) for speed variation. "MITSUBISHI":
Cam operated cutter assembly with spring loaded brake belt.
Set of draw brushes to draw out a sealed strip from rollers with vertical slitters to slit sealed strip.
04 S. S. Packing Material Holder Assembly:
2 sets of front adjustable type

of friction brake system with foil running tube.

Heater : Cartridge Heaters for heating sealing rollers as per our catalogue specifications.
Temperature is controlled by 2 sets of Digital Electronic Temperature Controller to control both sealing rollers.
05 Special Electrical Control Panel of S.S. consisting of :
"ON", "OFF", "INCH" controls and extra "INCH" control near Clutch handle

.

DOL Air Brake contactor for heater, Amp Meter for heater, Indication lamps
Digital Counter cum speed indicator, MCB etc.
06 Batch Coding Unit:
Felt type ink roller, nylon stereo rings mounted on bracket

.