AMPOULE WASHING MACHINES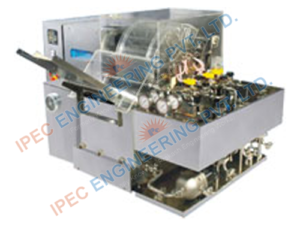 Ampoule Washing Machine is designed in a fashion where the washing process can be customized as per the customer requirements. Each vial or ampoule in the Ampoule Washing Machine flows through a process, which includes –
Ultrasonic Treatment (optional)
Recycled Water (internal and external )
Compressed Air ( internal)
Purified Water (internal)
Compressed Air (internal)
WF 1 (internal)
Compressed Air (internal and external)
AMPOULE WASHING MACHINE FEATURES
Temperature, pressure media spraying time, cycle speed can be saved for various vials/ampoules
Password protection for each process parameter, which can be accessed only by supervisors and validation staff
Actual process parameters and alarms are data logged to a storage device or online printer
Compliance with 21 CFR part 11 is available
AMPOULE WASHING MACHINE TECH SPECIFICATION
Output capacity of 300 ampoules-vials /min
All parts that come in contact with the internal surface of the ampoule/vials and the wash media are made of AISI SS316L stainless steel
Other parts are made from engineering plastics, FDA approved or AISI SS 304 stainless steel
All finishes, welding joints are processed and treated and equipment selected in accordance with cGMP standards
STERILIZATION & DEPYROGENATION TUNNEL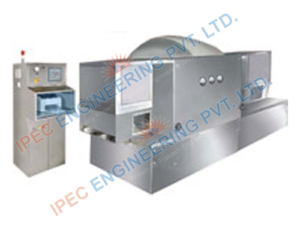 Depyrogenation tunnels are designed to sterilize and depyrogenate glass containers. The process is done maintaining an ISO 5 environment along the whole length and width of the conveyor belt complying with ISO 14644-1 requirements, they are designed to allow higher output in a more compact body with better control of the process parameters.
STERILIZATION & DEPYROGENATION TUNNEL FEATURES
Each independent filter plenum is provided with filer integrity sample port
The equipment conveyor belt is monitored and alarm stats is activated if it operates outside the belt speed set points
Provision for ports to allow the introduction of Validation thermocouples in each zone
The tunnel is provided with full integrated vial flow control logic to allow automatic stops and restarts of the equipment
All filter modules have differential pressure gauges to monitor pressure. Pressure switches with high and low alarms
When the tunnel is not in use it can be operated in the night -mode to save energy while preventing contaminations
AMPOULE FILLING AND SEALING MACHINE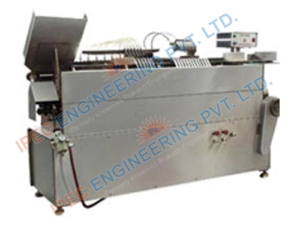 User-friendly reliable and safe solution for the high-speed filling needs. Dosing syringes are driven by a separate brush-less motor. Ampoule sampling unit without stopping the machine. Possibility to memorize various parameters of different ampoule sizes. We are leading Manufacturer of Ampoule Filling Machine, Supplier of Ampoule Filling Machine, Exporter of Ampoule filling Machine in Gujarat, India. Manufacturer of Ampoule Sealing Machine, Supplier of Ampoule Sealing Machine, Exporter of Ampoule Sealing Machine in Gujarat, India.
AMPOULE FILLING MACHINE AND SEALING MACHINE FEATURES
Self-centring grippers for the transport of all ampoule diameter within the size range without the need to change
Ampoule neck centring during gas flushing and filling
The possibility of gas flushing before, during and after the filling
AISI 316L dosing syringes without gaskets
Drip-free adjustment for media of different viscosity
The possibility of direct connection to sterilizing tunnel
No ampoule no filling function
Fully accessibility allows easy maintenance
Fast change-over due to an extremely limited number of parts to be replaced
Individual micrometric adjustment of the syringes
Other Features of Ampoule Filling and Sealing Machine
Dosing syringes driven by separate brush-less motors
Ampoules sampling unit without stopping the machines
Possibility to memorize various parameters of different ampoule size
The ampoule is transported by the in-feed conveyor in feed scroll and ampoule transfer into transport rack
Ampoules are advanced per machine stroke
Centring of ampoules necks during gas flushing and liquid filling
Elimination of burned off ampoules tips by clipper and ejection into a separate container
Discharge of filled and sealed ampoules into the discharge tray
Optical Ampoule Vial Inspection Machine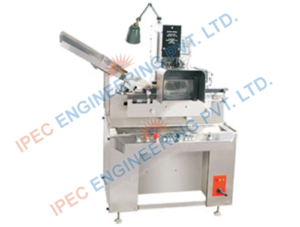 The filled ampoules are loaded into the infeed chute from where they are transferred in batches by an index wheel onto a linear transfer rack. The rack transfers the ampoules onto the inspection station, where spinners spin the ampoules at a predetermined RPM so that a vortex is formed. Illumination from behind the ampoules assists in light refraction of particles/ fibres. An operator views six ampoules through a magnifying glass
Salient Features of Optical Ampoule Vial Inspection Machine
All contact parts in stainless steel and approved engineering plastics
The spinning of ampoule/vial.Magnified view with backlighting
Clear view of six ampoules/vial
The modular and compact ejection system
Rotation of spinners can be adjusted to give the desired vortex on liquid
Easy access for cleaning and maintenance
Large inspection to transport time ratio
Facility of the repeat cycle
PLC assisted failsafe rejection
Counters for good and reject products
Technical Specifications of Optical Ampoule Vial Inspection Machine
Output(Ampoules) : 60-72/minute
Output(Vials) 48-56/minute
Electrical Ratings : 3ph. 415V. 50 cps. (4 wire)
0-75 HP Main Motor
0-25 HP Spinner Motor
Net Weight: Approx. -450 Kg.
Handling Range (in mm)
Diameter Min. 9 Max. 15 mm
Height Min. 60 Max. 116 mm
Automatic High-Speed Ampoule Sticker Labeling Machine Features:
High production speeds up to 300 per minute
Stainless steel 304 construction
GMP Design
Accurate label placement
Unrivalled build quality and reliability
Full pharmaceutical security package including counter
Secondary pressure unit
Equipped with online printing device (Optional)
No change parts for the change of label size
Single point online speed variation control system
In-built A.C. frequency drive
Label data inputs not required due to the auto label length detection system
The machine with pressing unit
Speed control by a single knob