Magnetic Mixers are used for vessels other than Bioreactors like media preparation, buffer preparation, etc., which are part of the bioprocess. IPEC Magnetic Mixers are similar to the Magnetic Agitator. Our Magnetic Mixers usually come without a shaft. They are designed for liquid mixing applications. It complies with the most stringent cleaning and sterilising requirements. This factor is very important in the cGMP compliant.
OUTSTANDING CLEANABILITY FEATURES
IPEC Magnetic Mixers provide unparalleled hygiene due to its
Open design
seal-free construction
Lack of entrapment areas and
Levitating impeller design
ADVANTAGES OF MAGNETIC MIXER
Absolutely tight system
No danger of contamination and leakage
Optimal for aseptic production
No influence on the integrity of the system
IPEC Magnetic Mixers feature a unique and patented design, which delivers friction-free mixing. It is designed in such a fashion that it makes it possible to mix at various velocities. This flexibility enables the same mixer to handle a wide range of liquids and mixing duties, such as high-intensity mixing and gentle product mixing.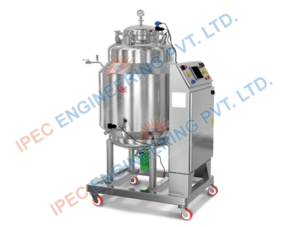 SALIENT FEATURES
Easy cleaning and sterilization. It can be done directly in the vessel by steam or water.
Control of temperature. The optimized mixing effect allows a temperature control, which was more difficult before at batch wise sterilization.
Low shearing force. The careful mixing allows handling of sensitive products
Easy assembly. Assembling and dismantling is very easier comparing a top-driven mixer which often requires a mechanical lifting device.
AVAILABLE CAPACITY
100liters to 10,000 Liters capacity