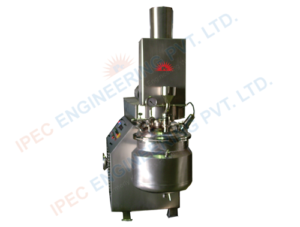 IPEC is one of the leading manufacturer & Exporter of Pilot Ointment Mixer Plant in Gujarat, India.
Catering to the demand of pharmaceutical & cosmetic industries for cream manufacturing, these precisely engineered Pilot Ointment Mixer Plants are attuned to international quality standards. These pilot Ointment Mixer Plant are fabricated by us using the highest grade and rust-proof materials, that make them highly durable in quality.
Our Pilot Ointment Mixer Plants are characterized by precise dimension, high tensile strength and superior functionality. We can custom design them in compliance with specifications of our clients.