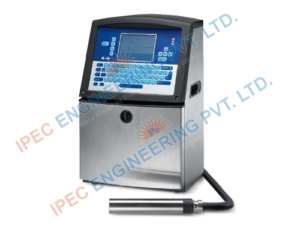 IPEC is quality manufacturer and exporter of Batch Coding Machine in Gujarat, India. Batch coding machine is an innovation in a new line of printers that raises the standard of marking and coding performance. It is exclusively designed for medium-duty applications that involve printing codes for roughly 16 to 20 hours per day/six days per week. PEW-VJ1510 is ideal for food, beverage, chemical, pharmaceutical and personal care/cosmetic industries. Integrating the PEW-VJ1510 is simple via its USB port, which allows hot-swapping print jobs and backing up messages. The convenience of off-site control and diagnostics via ethernet capability through connector software allows simple, seamless and real-time message changes.
BATCH CODING MACHINE IS SIMPLE IN OPERATION
Innovative features make printer operation is easier than ever before. The print head automatically calibrates and cleans itself for consistent performance and longer print runs. The smart cartridge ink delivery system prevents spills during replacement – reducing waste and operating costs.
BATCH CODING MACHINE LESS MAINTENANCE
1000 Line printers operate for up to 18 months without requiring preventive maintenance. An alert appears when it's time to change the modular core. Thus, no more messy filter replacement is required.
BATCH CODING MACHINE ENSURES SUPERIOR PRINT QUALITY
The 1000 line produces the sharpest codes in the industry. It delivers superior print quality, thus ensures that every drop is precisely placed – time after time. Dynamic Calibration maintains consistent print quality, even as environmental conditions change.
BATCH CODING MACHINE TECHNICAL SPECIFICATIONS
Line Speed Capability :

Can print 1 to 5 lines of print at speeds of up to 914 ft./min. (278.6 m/min.) (10 characters per inch, single line of print)

Font Matrix Configuration
Single-line: 5×5, 5×7, 7×9, 8×12, 11×16, 17×24, 34×34
Twin-line: 5×5, 5×7, 7×9, 8×12, 11×16
Tri-line: 5×5, 5×7, 7×9
Quad-line: 5×5, 5×7
Five-line: 5×5
BATCH CODING MACHINELINEAR BAR CODE
UPC A&E; EAN 8 & 13; Code 128 A, B & C
UCC/EAN 128; Code 39; Code 93; Interleaved 2 of 5
Data Matrix Codes 10×10, 12×12, 14×14, 16×16, 18×18, 20×20, 24×24, 34×34
Nominal Character Height Selectable from 0.079" (2 mm) to 0.40" (10 mm), depending on font
BATCH CODING MACHINE THROW DISTANCE
Optimal: 0.472" (12 mm)
Range: 0.197" (5 mm) to 0.591" (15 mm)
HIGH-SPEED CARTON FEEDER/DESTACKER SYSTEM

The machine has automatic friction feeding mechanism for cartons by 4 side's vertical angles. This helps us to put 300 – 400 cartons at a time for marking. The machine will push one by one carton at a time.
MODEL OF HIGH-SPEED CARTON FEEDER/DESTACKER SYSTEM
Overall Dimensions: 1500(L) X 530(W) X 1300(H)
Speed: Variable Up to 6000 to 25000 Cartons/hour
Gross Weight: Approx 130kg
Min Size of the Carton:55(W) X 60(L)
Max Size of the Carton: 300(W) X 450(L)
Thickness: 50 GSM to 4mm
Power: Single Phase 230VAC8. Motor: 0.5 HP PMDC