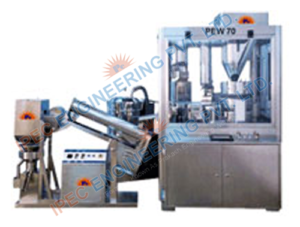 IPEC 70 is compact and fully automatic Capsule Filling Machine that can fill powder/pellets into hard gelatin capsules. The Auto Capsule Filling Machine is designed to give an output of 70,000 capsules per hour with high filling accuracy. It can fill capsule sizes 00,0,1,2,3 & 4. The actual production depends on the quality of capsules, characteristics of the filling powder/pellets and humidity condition.
The Capsule Filling Machine is made as per GMP standards. Contact parts are Stainless Steel 316 & other parts are covered with Stainless Steel 304.
CAPSULE FILLING MACHINE FEATURES
Compact design, covered with Stainless steel 304, acrylic doors with micro switches
Temping system for Powder Filling with accuracy of + 3%
Speed & other settings can set on Touchscreen HMI
Gauges are provided for easy change over
CAPSULE FILLING MACHINE TECHNICAL SPECIFICATIONS
OUTPUT 70,000 capsules / hour
Main Drive 3 Phase,1.5 HP, 380/440V, 50 Hz
Powder Feeder 3 Phase, 0.25 HP, 380/440V, 50 Hz
Dust Extractor 3 Phase, 2 HP, 380/440V, 50 Hz,125 CFM
Vacuum 3 Phase, 3.00 HP, 380/440V, 50 Hz
1000 Ltrs/min, 30CFM, 500mm – 20" of Hg
FULLY AUTOMATIC HARD CAPSULE FILLING MACHINE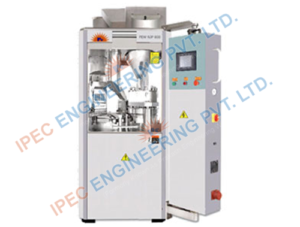 Fully Automatic Capsule Filling Machine is the newest designed equipment, which totally meets GMP, ISO, and USA FDA requirements. This machine redefines convenience and ease of operation, especially the electrical control cabinet is independent of the machine. This helps us to meet the requirement of FDA and CE, regarding the safety of the operator.
This is a newly created full-automatic closed intermittent capsule filling the machine with multiple tamping stations.It completes the following process: feeding capsule, detaching capsule, filling, ejecting defective capsule, closing capsule, discharging finished capsule automatically.
FULLY AUTOMATIC HARD CAPSULE FILLING MACHINE FEATURES
This machine can be equipped with vacuum loader for capsules and powder, which reduces the workers' cost, and all the operation is conducted on the touchscreen, which is a high automation machine of water, electricity and pneumatic.
Accurate orientation, Capsule vacuum positioned mechanism to make the capsule upload percentage over 99%
Freely adjusting dosage, easy speed selection and closed capsule length adjustment
PLC program control panel with LCD.touch screen operation, and monitoring function
Displaying in-time speed and accumulative output
Auto-trouble shooting, lack of material, lack of capsule, block in the material channel and other mechanical trouble, make alarm and stop automatically
Electrical Appliance control system approved to CE, and international standard
Quick and accurate change part set-up, easy to remove rotary table and ring carrier assembly
Fully enclosed dosing stations and rotating table for integration of the whole capsule filling plants
Working station cam runs under the good lubricating condition, extends the operating life of change parts.cam is made by USA HASS CNC machine
FULLY AUTOMATIC HARD CAPSULE FILLING MACHINE TECHNICAL SPECIFICATIONS
Model PEW-NC-NJP800
Output 48000
No. of die orifice 6
Filling percentage = 99%
Power (kw) 380V.50Hz 3.5KW
Vacuum 27m3/h -0.02~-0.08Mpa
Machine dimensions 1350*1020*1850
Weight (kg) 850Kg
Noise emission < 73dB(A)
MANUAL CAPSULE FILLING MACHINE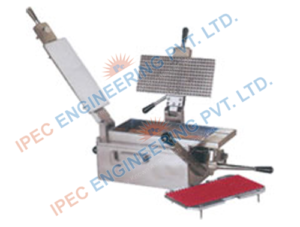 Designed to serve the need of R & D purpose, small batches, trail run for large scale as well as regular production in small-scale pharmaceutical companies.
The 300 holes GMP model manually operates on hard gelatin. Capsule Filling Machine is the most used in pharmaceutical industries. This machine is small and reliable for small units. Speedy and efficient operations are assured from numerous improvements introduced over many years of its wide and varied application in industry. The simplicity of operation and moderate output makes the machine ideal for large variety and low volume encapsulation operations.
MANUAL CAPSULE FILLING MACHINE FEATURES
New improved design gives negligible rejections and ensures a better return on investments
Contact Parts, Stainless Steel construction and use of Non-Corrosive approved materials eliminates contamination and facilitates easy cleaning
Simple design and robust construction ensure long-life and trouble-free operations
Table and partial filling attachments can be offered to suit filling of specific formulations
Precision manufacturing technique ensures inter-changeability of size parts and spares
Easy maintenance and read availability of spares reduces down time of the machine drastically
All the loading plates are made of S.S. 304 quality
MANUAL CAPSULE FILLING MACHINE TECHNICAL SPECIFICATIONS
Out put

6000+ capsules/ hour for capsules of 'oo' to '5' Depending on formulation and operator skill

Weight 48 Kgs
Gross Weight 78 Kgs
Case dimension 508 x 508 x 460 H