ELEVATING TABLET DEDUSTER/DE-BUTTING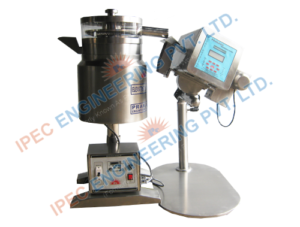 IPEC De-burring and de-dusting machine is a high-speed and efficient elevating machine designed to remove dust and burr of all shapes of tablets accurately and efficiently. An economical design makes PEW-TI-UMD – 100 a truly CGMP mobile and versatile in operations and maintenance.
SALIENT FEATURES:
Compact in size and excellent finishing.
Machine constructed of stainless steel.
Faster dismantling and assembling.
Telescopic Height adjustment provided.
In build S.S. – 316 contact parts.
Maintenance free.
In build PU wheels with S.S.body.
In build vacuum and air connection.
TECHNICAL SPECIFICATIONS:
Elevating De – duster :

Model PEW-TI-UMD – 100

Charging Height :

675 mm to 875mm

Discharging Height :

750 mm to 950 mm

Total hight : 885 mm to 1085 mm
O/P Dia 6 mm Tablet : 250,000 tablets / Hr.
Passage Size : 120 mm x 50 mm
Dedusting Distance : 2.25 Meters
Total Weight : 50 Kgs
Power Supply : 230 VAc / 01 Phase / 50Hz.
DIGITAL METAL DETECTOR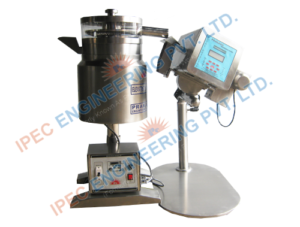 IPEC METAL DETECTOR is a cost-effective and reliable solution for metal detection in Pharma Industry. The unit is manufactured from stainless steel through out to provide a hygienic easily cleaned inspection. A robust stainless steel reject flap is operated by a high speed electrical solenoid for clean, precise rejection of contaminated product with minimum waste.
This metal detector chute can be quickly and easily dismantled for routine cleaning and product changeover. It is especially well suited for high processing speeds and quick product change. This latest metal detector model also incorporates the patented and well-proven Audit Check self-monitoring system. The Digital Metal Detector is designed for simple adaptation and flexible, efficient operation on the line. The complete unit takes up minimum system length and can be located before or after the de duster.
Salient Features of Digital Metal Detector:
High speed rejects for positive reject of contaminants.
Compact frame- needs less installation space.
Easily cleaned.
Stainless steel finish for easy clean and hygienic design.
High sensitivity to all metal including the most difficult non-magnetic stainless steel.
Easily compatible with all tablet press.
Built in LED Bar Graph to monitor the amount of contamination.
Performance is maintained stable throughout the life.
Auto balance, Easy change Electronic modules
TECHNICAL SPECIFICATIONS:
Aperture size of 75mm Width and 25mm Height
Detect metal contamination of 0.15mm Ferrous and 0.25mm Non Ferrous / Stainless Steel
FLAP type Rejection Mechanism.