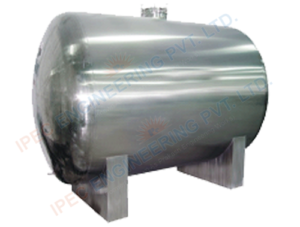 IPEC Storage Tank is our biggest tank category. The storage tank is also called chemical resistance. Our Storage Tank is welded at the seam and then coated. PP and PVC sheets used in our tanks act as a chemical barrier.
Usage of Storage Tank:
It applied to infusion, injection, oral liquid, blood preparation, biology, fine chemical and fermentation industries.
Technical Parameters of Storage Tank:
Material adopts 316L or 304, inside surface roughness is Ra0.4µm, outside surface roughness is Ra0.8µm.]
Form: vertical or horizontal.
Components: vent filter, manhole, cleaning ball, liquid level gauge, and control system or according to clients' specific requirement.
Specification : 100L-50000L
The Salient Features of Storage Tank:
Valves, Gauges and Instruments of reputed make ensures trouble-free service.
Pressure build vaporiser – standard supply.
Tanks are equipped with specially designed suspension support system which permits cryogenic temperature operations for a large sized vessel with optimum heat loss.
The tank is cleaned to Oxygen duty requirement from inside and delivered with dry Nitrogen seal gas, to prevent any kind of contamination during transportation.
External surfaces are blasted and finished with polyurethane paint to provide long-term durability.
Rugged design for outdoor installation.
Valves and gauges provided at convenient locations in front of the Storage tank for easy operations
The tank is cleaned to Oxygen duty requirement from inside, and delivered with dry Nitrogen seal gas to prevent contamination during transportation.
Fabrication processing follows strict quality assurance plan (QAP) with all raw material been tested in, in-house testing laboratory Our All chemical storage tanks are designed in compliance with international standard.