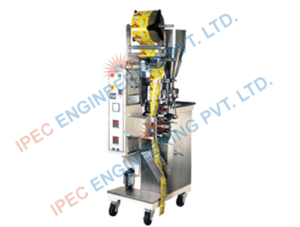 IPEC Pouch Packing Machine is exclusively designed for medium Sachets, Bags, and Pouches. The vertical form fill seals packaging machine with volumetric cup filler. Our Pouch Packing Machine is best and most economical solution for packing needs of many industries. Our Pouch Packing machine uses lay flat flexible rolls and fills the product followed by sealing the bag.
This Pouch Packing machine can be optimally used for centre sealing, three sides sealing, and four sides sealing.
SALIENT FEATURES:
Fully automatic, compact and robust machine.
Top quality components and best workmanship.
Simple and user friendly machine.
Low maintenance and low operating cost.
Digital Temperature Control system.
All Product contact parts are made up of Stainless Steel (food grade).
Customized to meet specific requirement.
Require Single Phase power supply only PEW-MK-101C.
Capacity / Filling range 0.5 to 10 gms, 10 to 50 gms, 50 to 100 gms and 100 to 250 gms.
Operational Speed / output 20 to 70 bags per minute (depends on flow characteristics of product and bag size).
Sealing Type 4 Side Seal, 3 side Seal, Center Seal (pillow pack).
Filling System Volumetric Cup Filler.
Filling Accuracy +/- 2 % Depend on the nature of products.
Packaging Material any heat sealable film, and a laminated film in roll form.
Film Size Max. Width: 50mm-350mm | Max. Length : 40mm-240mm.
Power 0.5 HP Motor, 220V Single Phase, 50Hz.
Net weight of m/c 380 to 450 Approx.
Dimensions 1200mm x 840mm x 1960mm (L x W x H).